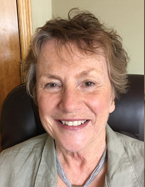 Andrea Conlee, LSCSW
Andrea is a native Kansan. Seven years ago she returned to Topeka to be closer to family. At Stormont Vail School of Nursing, psychiatry became my passion.
Ms. Conlee's practice includes Topeka and Wichita. Working as a psychiatric nurse at Charter and Via Christi hospitals she was assigned patients with eating disorders, chemical addiction, and chronic mental health diagnoses. A promotion allowed her to oversee and care for adults in a Partial Day Program. She has also worked with women clients in a unit for sexually, physically, and emotionally abused women. Assertiveness training, psychodrama, and family support groups instilled her knowledge of group dynamics.
After completing a Masters of Social Work at the University of Kansas in 1995, she joined a group in private practice. Her long term goal of treating people based on The Strengths Perspective came to fruition. Giving clients the tools to become healthier was her desire. She believes everyone has Strengths to build upon.
In Washington D.C., Andrea completed education in IMAGO THERAPY. IMAGO here is defined as 'seeking a partner with the characteristics and traits of our parents.' Parents are the first two people we fall in love with. Once we find that person we try to get our needs met within this relationship. Ms. Conlee has a passion her work with couples and individuals seeking a meaningful partnership. Ms. Conlee is an Imago Relationship Clinical Member.
Real intimacy occurs when one shares their fears and joys with another. Listening is a big part of this experience. Individuals and couples are taught ways to listen and ways to be heard. Andrea invites you to give her a call to help with your feelings of anxiety and symptoms of depression, particularly after the recent pandemic.
If you call Shadow Wood, our office manager will likely be able to look at your insurance, Medicare, and/or Medicaid.
Thanks for your attention!
Payment/Insurance Options for Andrea Conlee
Aetna Commercial
Blue Cross Blue Shield
Cigna Behavioral Health
Cigna

KanCare – United Healthcare Community Plan (Medicaid)
Medicare
Sunflower
United Healthcare
Our Mission
The clinicians at Shadow Wood Clinical Associates provide compassionate and competent care in helping individuals, couples, families and special groups cope with the challenges of life. We believe that by working in a therapeutic partnership, clients can improve their lives. They are better able to identify and understand the issues which brought them to treatment, enhance their coping skills, and resolve the complex problems of living that most people face at some time in their lives.