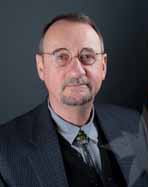 Thomas S. Bartlett, Psy.D.
Psychologist
Thomas S. Bartlett, Psy.D., a licensed clinical psychologist, received his Masters in Psychology with a clinical emphasis from Washburn University in 1985 and completed his doctorate in clinical psychology at the University of Denver in 1993.He completed a two year postdoctoral fellowship at the Menninger Clinic in 1995. During this postdoctoral residency he received advanced training in diagnostic evaluations, individual therapy, psychological testing, clinical hypnosis and group therapy.
Dr. Bartlett was employed at Topeka State Hospital, where prior to its close, he served as a supervising psychologist on the children's preadolescent cottage. In addition to working with children and their families, he supervised staff psychologists and pre-doctoral interns. Most recently, Dr. Bartlett served as the Director of Training and Education at Family Service and Guidance Center of Topeka where he was responsible for providing diagnosis and treatment to children, adolescents and their families, as well as directing the agency's American Psychological Association accredited pre-doctoral internship in professional psychology.
In his private practice, Dr. Bartlett works with children ages 7 and up and adults, providing psychological testing, diagnostic assessment and treatment for a variety of issues from minor distress over changes in one's life to more complicated psychiatric illnesses, such as pervasive developmental disorders, Asperger's Disorder, bipolar disorders, personality disorders, anxiety disorders and depression.
Dr. Bartlett's therapy relies on an interpersonal approach, but also uses a number of empirically supported techniques such as cognitive behavioral therapy for depression and anxiety disorders, as well as exposure/response prevention. Each patient's treatment is individually planned and determined by the patient's needs and goals.
"I work with each client to develop a treatment plan and approach that meets their goals and individual requirements. I believe that people are more than a diagnosis or static label and my work places an emphasis on the person with a challenge rather than simply focusing on the challenge alone. The therapeutic process is more than helping a person to develop positive thinking or an optimistic attitude, but involves helping the person gain an understanding of how they can approach the world to obtain the greatest satisfaction from their relationships, their work and their life in general."
Thomas S. Bartlett, Psy.D.
3649 SW Burlingame Road, Suite 100
Topeka, KS 66611
785-266-6751 office
Documents for Thomas Bartlett's Clients
Payment/Insurance Options for Thomas Bartlett
AARP
Aetna Commercial
Aetna Senior Supplement
Ambetter Health
Amerigroup
Blue Cross Blue Shield
Benefit Management
Cenpatico Behavioral Health
Central States
ChampVA
Cigna Healthcare
Cigna Behavioral Health
Colonial Penn
Continental Life
Continental Life
Coresource
Coventry Health and Life Insurance
Coventry Healthcare of Kansas
FMH
Health Partners Of Kansas
Humana
Individual Assurance
LHI
Medicare
Medico
Meritain
MH Net
MO Healthnet
Mutual of Omaha
Optum
Preferred Health Professionals
Railroad Medicare
Sunflower
Tricare for Life
Tricare West Region
United Behavioral Health
United Healthcare
UMR
Wellmark Inc
WPS-VAPCCC
WPPA
Our Mission
The clinicians at Shadow Wood Clinical Associates provide compassionate and competent care in helping individuals, couples, families and special groups cope with the challenges of life. We believe that by working in a therapeutic partnership, clients can improve their lives. They are better able to identify and understand the issues which brought them to treatment, enhance their coping skills, and resolve the complex problems of living that most people face at some time in their lives.