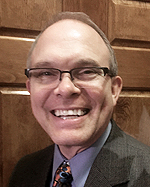 Jonathan M. Farrell-Higgins, Ph.D.
Jonathan M. Farrell-Higgins, Ph.D. ("Dr. Jon") has been in private practice for many years, all of it in association with Shadow Wood Clinical Associates. He received his undergraduate Psychology Bachelor's Degree from the University of Illinois at Urbana-Champaign, and then earned his Master's Degree and Ph.D. in Clinical Psychology from the University of Kansas. Following graduate school, Dr. Farrell-Higgins completed his Psychology Internship at the Topeka Veteran's Administration Medical Center (VAMC) in 1988.
In addition to his private work, Dr. Farrell-Higgins has prior experience in various settings including community mental health facilities in Wisconsin and Kansas. He also devoted over three decades to working with veterans at the Topeka VAMC. Supervision and training of predoctoral psychology interns was also an important part of his professional journey in that setting.
Dr. Farrell-Higgins has an extensive background in providing generalist psychotherapy services to a wide range of clientele. He taught extensively at the Topeka VAMC, and has lectured at Washburn University, KU, and various local and regional events. Dr. Farrell-Higgins is a member of the American Psychological Association and the Kansas Psychological Association.
In his private practice, Dr. Farrell-Higgins enjoys providing therapy services to individuals, couples, and families. Clients range in age from adolescence to older adults:
As a therapist, my aim is to truly listen to clients' challenges, needs, hopes, and strengths so that we can collaboratively chart the path of therapy. The therapy journey itself ultimately takes different shapes depending on the client's treatment goals. For many I've found the language and tools of Cognitive-Behavioral Therapy to be most helpful. Others respond best to more Mindfulness-based approaches to healing and stress management. Some clients prefer a solution-focused problem-solving approach. For those wanting to explore deep personal growth or life transition issues, longer-term therapy may be appropriate. In addition to working with individuals, I'm particularly passionate about working with couples struggling to overcome stuck patterns of communication so that emotional connection can be restored.
Dr. Farrell-Higgins often works with these issues:
Post-Traumatic Stress Disorder (PTSD)
Mindfulness-based stress reduction
Mood disorders such as depression and bipolar disorder
Anxiety disorders (including generalized anxiety, social anxiety, and
panic disorder)
Substance use
High school/College level struggles
Parenting issues and difficulties in family functioning
Grief and loss
Anger management
Couples' communication issues
Divorce issues
ADD/ADHD
Personal growth issues
Spirituality and faith issues
Clergy therapy and consultation
Psychological assessments to clarify diagnostic issues
Office hours are:
Tuesdays: 8:00 a.m. – 6:00 p.m.
Wednesdays: 9:00 a.m. – 7:00 p.m.
Thursdays: 8:00 a.m. – 6:00 p.m.
[Other days/times by special arrangement]
For a first-time appointment, please contact the office manager at Shadow Wood Clinical Associates at 785-266-6751.
Payment/Insurance Options for Dr. Jon Farrell-Higgins
Aetna Commercial
All Savers
Amerigroup
APWU Health Plan
Bind
Blue Cross Blue Shield
Carelon Behavioral Health (formerly Beacon Health Options)
Cenpatico Behavioral Health
Cigna Healthcare
Cigna Behavioral Health
Colonial Penn
Consolidated Health Plan
Coresource
CorpHealth
Coventry Healthcare of Kansas
DCF
DFELHWC-FECA
Golden Rule Insurance Company
Great West Healthcare
Humana
Kansas Medical Assistance
Kansas Health Solutions
KanCare – Aetna Better Health of Kansas (Medicaid)
KanCare – United Healthcare Community Plan (Medicaid)
KanCare – Sunflower Health Plan (Medicaid)
LineCo
Magellan
Medica
Medicare
MH Net
Mutual of Omaha
National General
Old Surety
Optum
Preferred Health Systems
Preferred Health Professionals
Railroad Medicare
Sunflower
TMHC Services
Tricare for Life
WPS-VA
Tyson Foods
United Behavioral Health
United Healthcare
UMR
Value Options
WPPA
Our Mission
The clinicians at Shadow Wood Clinical Associates provide compassionate and competent care in helping individuals, couples, families and special groups cope with the challenges of life. We believe that by working in a therapeutic partnership, clients can improve their lives. They are better able to identify and understand the issues which brought them to treatment, enhance their coping skills, and resolve the complex problems of living that most people face at some time in their lives.