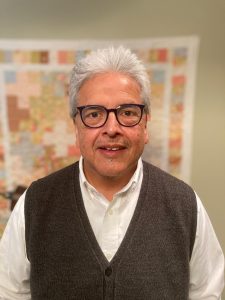 Tom Padilla, LMSW
Hello, I'm Tom Padilla. I've been practicing at SHADOW WOOD CLINICAL ASSOCIATES (SWCA), since the Fall of 2021. SWCA is located at 3649 SW Burlingame in Topeka. Our office number is: 785.266.6751, and the office manager and would be happy to schedule an appointment for me.
I work on Thursday's only.
I completed my degree as a Master of Social Work in 1993, from KU and am licensed (LMSW), according to the Behavioral Sciences Regulatory Board (BSRB) requirements.
I have experience working with families, individuals and conducting group psychotherapy. Most recently I provided care and case management to Veteran's, having recently retired from the Topeka VA.
Including experience in the substance abuse field, I have provided counseling to clients struggling with depression, PTSD, grief, and other emotional and behavioral issues. I plan to focus my practice on working with individuals, but would consider assisting families in the therapeutic process.
I am credentialed with BCBS and Medicaid, private pay and a sliding scale is always an option.
This journey we're all on can be difficult at times .. sometimes we just need an empathetic ear, sometimes we just need encouragement and support, but sometimes we need the privacy and guidance of a trained professional to assist us with the roadblocks that life places on our path.
I'd be honored to assist you in that journey. Please call for an appointment, 785.266.6751, and our office manager will be happy to schedule an appointment for you.
Payment/Insurance Options for Tom Padilla
Blue Cross Blue Shield
KanCare – United Healthcare Community Plan (Medicaid)
KanCare – Aetna Better Health of Kansas (Medicaid)
KanCare – Sunflower Health Plan (Medicaid)
Our Mission
The clinicians at Shadow Wood Clinical Associates provide compassionate and competent care in helping individuals, couples, families and special groups cope with the challenges of life. We believe that by working in a therapeutic partnership, clients can improve their lives. They are better able to identify and understand the issues which brought them to treatment, enhance their coping skills, and resolve the complex problems of living that most people face at some time in their lives.